Forthcoming Events:
2007
TALKS AND WALKS
Starting on Monday 8th October for ten weeks:
'The History and Culture of London' a course at Bexhill College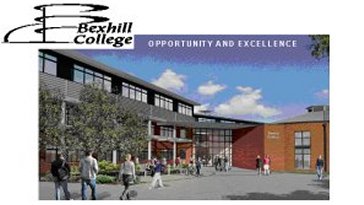 WRITING
I shall be contributing a column on the folklore of London pubs to Paul Screeton's estimable Folklore Frontiers over the coming months. Copies can be obtained from:
5 Egton Drive, Seaton Carew, Hartlepool, TS25 2AT Subscription for 3 issues is £6.00 cheques made payable to Paul Screeton
2008
Wednesday 27 February - "Folklore of Westminster" talk at City of Westminster Archive Centre
Tuesday 11 March: 'Decadent London' a talk at Acton Library starts 7.00pm
Thursday 3 April Talk for Get London Reading on the folklore of London at Harleseden Library
May - a talk at Marylebone Library to coincide with Local and Community History Month
June or July Walk for the London Adventure on Edward Burne-Jones
Forthcoming spring 2008
The Folklore of London (Historical Publications/Phillimore) Chapters to include: The Legendary Origins of London, Legendary Londoners, Strange Brew: London Publore, Uncanny Underground, Customs and Ceremonies and more...
a series of talks and walks will be arranged to coincide with publication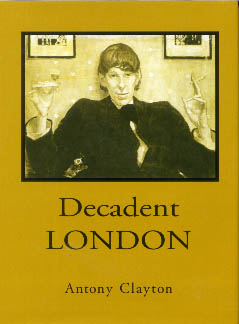 Decadent London
As the dawn of the twentieth century loomed, London was undergoing tremendous changes,
establishing itself as the heart of one of the most powerful empires the world had ever seen.
However, in the same decade that witnessed the celebrations of Queen Victoria's Diamond Jubilee,
a diverse group of writers, artists and poets sought to subvert the oppressive cultural and moral
climate of the period. This was the city explored by Oscar Wilde, Arthur Symons, Aubrey Beardsley,
Frank Harris and Ernest Dowson, together with their less well-know compatriots
Lionel Johnson, John Gray, John Davidson and the mysterious Count Stenbock.
Using a thematic approach, Decadent London recreates the artistic milieu of this turbulent time,
describes the most popular decadent destinations and provides concise biographical material
on the central characters, many of whom became victims of their excessively louche lifestyles.
Visit the raucous decadent pubs such as the Crown and the Cock, listen in at the Cheshire Cheese,
where W B Yeats read his poems to the Rhymers' Club, enjoy the wit of Wilde and Whistler at the Café Royal
and explore the idyllic artistic retreat of Bedford Park in the suburbs.
The book also describes the work produced by London's decadent writers and artists,
particularly their contribution to the decade's most innovative periodicals
The Yellow Book and The Savoy. It outlines the development of the burgeoning music hall scene
beloved by many decadents, probes into the underworld of drug taking, pornography
and prostitution and uncovers the occult pursuits of the Golden Dawn and the Great Beast
Aleister Crowley.
This is an entertaining and informative glimpse into one of the most fascinating periods
in the capital's cultural history.
Reviewed by Christopher Fowler in the Independent on Sunday 8th January 2006:
http://arts.independent.co.uk/books/reviews/article337337.ece
To purchase a copy of Decadent London, Subterranean City or London's Coffee Houses online go to Amazon or Phillimore:

"Every page of this gripping volume appears as a voyage of discovery in itself and as such it can only be described as a modern history masterpiece."
Heritage Railway May 2001 (Blimey!)
"An encyclopedia of the intestines of London...packed with detail often forgotten by the grand sweep historians...lavishly illustrated, this is a reference book of all that goes on beneath our feet..." Illtyd Harrington West End Extra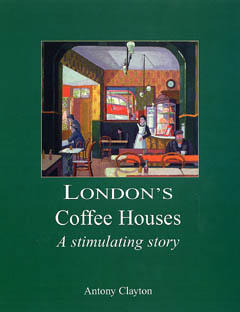 "The story of London's coffee consumption is so long, detailed and fascinating that it cries out for a study of its own. Fortunately, that cry has gone heeded by the freelance historian Antony Clayton, whose heavily illustrated and well-documented 2003 study, London's Coffee Houses: A Stimulating Story, performs the task admirably." Kevin Jackson and Richard Heeps Fast (Portobello Books, 2006)
"This short review cannot do justice to all the multifarious strands the author covers in this book...I was impressed by the very full notes and references at the end of each chapter as well as the wonderful range of quotations and illustrations he has unearthed." Peter Christie The Local Historian
Read a full review (pdf file see p17):
www.blue-badge-guides.com/guidepost/2004april.pdf
Articles
The following articles can be purchased from:
www.westminster.gov.uk/libraries/archives/index.cfm
City of Westminster Archives Centre
2000 "Greenery-Yallery, Grosvenor Gallery" in Westminster History Review Volume 4
1999 "The Character of the Coffee-House: Will's, Tom's and Button's" in Westminster History Review Volume 3
1998 "Going Underground: Subterranean Westminster" in Westminster History Review Volume 2 (winner of the 1999 Alan Ball Local History Award)
1997 " 'A Writer of Comedy with a Pencil': William Hogarth in Westminster" in Westminster History Review Volume 1
I noticed at the back of one of Paul Morley's books that he made a list of the music that he listened to when he wrote it, so here's mine:
Some earlier 'promotional activities'
2007
January to March: 'The History and Culture of London' a course at Bexhill College
Tuesday 27 February: a talk on underground London for the Thorney Island Society at the Royal Society of Arts
Tuesday 27 March: a talk on entertainment in the West End in the 1890s, including theatre productions, music hall and the spectacular magic shows of Maskelyne and Cooke at the Egyptian Hall in Piccadilly.
Westminster Reference Library 35 St Martin's Street 18.30-19.45 FREE
Wednesday 23 May: The Folklore of London a talk for Adult Learners Week
Westminster Reference Library 18.30-19.30 FREE
Thursday 24 May: Decadent London A walk around the hotspots of the 1890s
Westminster Reference Library 18.30-20.00 FREE
Tuesday 26 June: 7.00 pm Talk on underground London for the London Earth Mysteries Circle at the Diorama Arts Centre
Saturday 14 July: Walk around Chelsea for The London Adventure on the life and art of James Abbot McNeill Whistler.
Meet outside Chelsea Library FREE
Tuesday 17 July: More Folklore of London a supplement to the talk in May: publore, secret tunnels, London ceremonies
Westminster Reference Library 18.30-20.00 FREE
Wednesday 26th September 'Hogarth's London': a walk around sites associated with the life and art of William Hogarth, the quintessential London artist
Meet outside Westminster Reference Library 18.30 FREE
The walk will last approximately two hours and will finish at an appropriate pub
preceded by a talk on Hogarth's Marriage a la Mode paintings in the National Gallery at 6.00pm
Thursday 8 November: Talk for the South East London Folklore Society on 'The Folklore of London Pubs'
2006
Tuesday 17 January: a talk at the City of Westminster Archives Centre on Decadent Westminster
Saturday 8 April: Arthur Symons: poet of Decadent London A walk for The London Adventure Meet outside Westminster Reference Library, 35 St Martin's Street (nearest underground Leicester Square or Piccadilly Circus) at 3.00pm
Thursday 20 April: a talk for the Sohemian Society at the Wheatsheaf pub in Rathbone Place on Decadent Soho
Tuesday 9 May: appeared on the Robert Elms Show on Radio London to talk about Lyons Corner Houses (around 12.15)
http://www.bbc.co.uk/london/content/articles/2004/08/10/presenters_robertelms_feature.shtml?focuswin
Tuesday 23 May: a talk on the coffee houses of Covent Garden at the Museum and Library of Freemasonry, Freemason's Hall, Great Queen Street
Started outside Westminster Reference Library 35 St Martin's Street at 18.30 FREE
Tuesday 22 August: "Coffee House to Coffee Republic", an illustrated talk on the history of the coffee house in Westminster, that concentrated on Covent Garden in the eighteenth century and Soho in the 1950s. Held in Westminster Reference Library Art and Design Department
Saturday September 16th: I 'delivered a paper' on the Uncanny Underground at a conference called Railway Legend and Tradition held over the weekend of 16th and 17th September in Bristol. Other topics included: ghosts of the railways, trains in folk art, the, the Staplehurst railway disaster and songs and balladry of railwaymen; speakers included Doc Rowe, Dave Arthur and Bob Trubshaw.
Monday 18 September: a Green Plaque was unveiled on the site of the 2is coffee bar at 59 Old Compton Street at 14.30
Presented a copy of London's Coffee Houses to Sir Cliff Richard
Saturday 23 September: a talk for the Oscar Wilde Society Annual General Meeting at the Cadogan Hotel
Monday 25 September: Talk on 'Decadent Westminster' for the Thorney Island Society in Mayfair
Tuesday 7 November: talk on 'Subterranean Westminster' for the Thorney Island Society, held at the Guards Museum
Monday 27th November: talk at the British Library Conference Centre based around Subterranean City for a series of events to coincide with the exhibition: London: A Life in Maps.
Tuesday 12 December Strange Attractor Journal Three launch at the Horse Hospital
2005
April: my article 'The Folklore of Underground London' appeared in
Strange Attractor Journal Two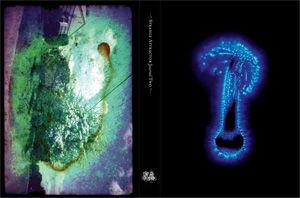 Tuesday 24th May: Decadent London: a walk around 1890s Westminster
For Westminster Adult Learners Week
18.30 from outside Westminster Reference Library 35 St Martin's Street WC2H 7HP
Monday 13th June: Talk at Maida Vale Library on 'The Folklore of Underground London' starting at 17.30
Saturday 10th September: William S Burroughs
An Alien in London
In collaboration with Bill Redwood a walk for The London Adventure based around William Burroughs and his period in London during the sixties and early seventies
Tuesday 27th December appeared on the Robert Elms Show on BBC London to talk about Decadent London (around 13.45)
2004
Sunday 25th July 12.30 Interview with Sheila Dillon of The Food Programme Radio 4 on the history of the London coffee house for a programme on 'caffs'
Monday 13th September Talk on the 'Folklore of Subterranean London' for the South East London Folklore Society. Details at:
Saturday 2nd October Sax Rohmer's Sinister City - a guided walk for The London Adventure
Thursday 7th October Talk on Sax Rohmer for the Sohemians
Friday 22nd October 21.30 'London: what lies beneath?' Radio interview with Mark Pilkington of Strange Attractor on Resonance FM playing some music inspired by 'subterranean London'
A selection of contemporary language mangling, hackneyed words and expressions, and constantly misused homonyms:

''the elephant in the room' (one to watch out for in 2007)

cracking iconic 'rocket science'

"What's that all about?"

If another celebrity feels the need to tell us about their 'journey', particulary at an awards ceremony, I shall have to cancel my lifetime's subscription to Hello magazine.

pore/pour (eg. he poured over his books. See any newspaper)

slithers/slivers (eg. slithers of salmon, which I saw advertised unappetisingly on a menu in Devizes)

perpetrate/perpetuate (definitely on the increase)

''coruscating' does not mean scathing,or severely critical

A recent lettter from the Bank of Scotland reassured me that, "Your hardly have to move a muscle"